Make a Gift to Emory Surgery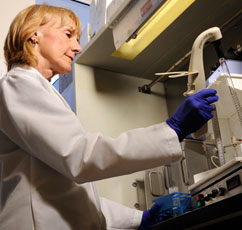 Dr. Susan Safely's islet transplantation research as a therapy for treating Type 1 diabetes has received funding from private donations.
Since the establishment of the Department of Surgery in 1939, it has been essential to the Emory University School of Medicine's position as one of the nation's finest institutions for education, biomedical research, and patient care. The Department conducts progressive research; treats a diverse array of patients, often offering ground-breaking procedures that are unavailable anywhere else in Georgia; and trains approximately 75 residents per year in several outstanding facilities. Contributions from organizations and private individuals have been essential to these endeavors, assisting in building and sustaining an infrastructure that has allowed us to continue to develop and advance.
As academic medical institutions strive to remain stable and afloat in a volatile healthcare and economic climate, gifts from organizations and private individuals are essential. Your gift can be designated for any one of a variety of purposes, such as to fund an endowed chair, support a faculty member or research team's investigations, or fund a component of our multi-specialty training programs. For example, the following Department of Surgery lectureships and visiting professorships were established and continue to be funded by benevolent endowments:
By giving, you can become an integral part of our ongoing effort to help define the future of healthcare in this country and abroad and to train the surgeons of tomorrow.
For more information on endowed gifts that include naming opportunities, please visit Named Gifts at Emory. To explore the variety of opportunities Emory University offers for giving, please visit Give to Emory. 
WAYS TO GIVE
Investing in the Emory Department of Surgery has never been easier. You may use a credit card, check, money order, electronic funds transfer, or even give appreciated stock or other real property. You also may invest in the Department with a bequest or life income gift, which can provide for you and your family, create tax benefits, and leave an important legacy for education, research, patient care, or community service at Emory.
Gifts can be mailed to 1440 Clifton Road, NE, Atlanta, GA 30322. Please make checks payable to Emory University, Department of Surgery. To give online, please visit Emory's secure giving page. With either payment method, please be certain to designate the component or entity of the Department of Surgery that you wish your gift to support.
CONTACT
For any additional information or assistance in making your gift, please contact Susan House, Senior Director of Development, Woodruff Health Sciences Center of Emory University, at shouse2@emory.edu or 404.727.9110.