Emory Haiti Alliance: Delivering Free Surgical Care to Haiti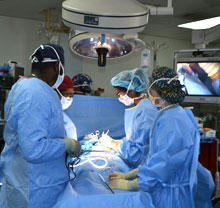 The Emory Haiti Alliance, formerly known as Emory Medishare up until 2016, began sending surgical teams to Haiti in July 2008 to offer free medical attention and operations to patients at L'Hôpital Sainte-Thérèse de Hinche in Haiti's Central Plateau, the poorest and most medically underserved region in all of Haiti. This became an annual, summer tradition that is focused on integrating medical education with humanitarian objectives.
On the surgical trips to Haiti, medical students of the Emory University School of Medicine assist faculty surgeons and surgery residents on complex surgical procedures while becoming acclimated to such conditions as minimal running water, ORs that functions on a diesel generator, barely adequate lighting, and intermittent power outages that require the teams to operate by the light of headlamps. The students are also responsible for raising funds to finance the trips, making travel arrangements, recruiting physicians and staff, and procuring medical supplies and pharmaceuticals.
Over the years, the alliance's surgical trips have developed into a month-long global surgery elective for senior medical students. The size of the teams have also increased to approximately 40 members, encompassing Emory anesthesiology, general surgery, and urology faculty; medical students; surgery residents; and mid-level practitioners. Larger teams and longer stays have allowed the teams to increase their caseloads by nearly 150 percent.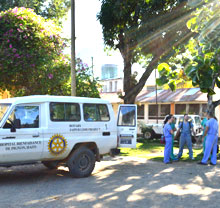 Emory Haiti Alliance participants often find the trips to be inspiring, especially as they encounter the strength and perseverance of the Haitian patients, many of whom are suffering from the types of severe onditions that often result from extreme poverty and lack of access to care. Transformed by these experiences, certain medical students have chosen careers in surgery or subsurgical specialties with an international focus. Participants from the early years of the organization have helped craft Emory University's policies on extramural clinical experiences, advanced to residency positions with formal global health components, and met with leaders in the global surgery community at national meetings.
2017 AND 2018 SURGICAL TRIPS
The alliance's June 4-June 25, 2017, excursion to the Hôpital Bienfaisance in Pignon, also in Haiti's Central Plateau, was an unequivocal success, with 60 surgeries performed and 100 patients seen in clinic. You can visit the 2017 trip's blog here.
Upon confirmation of the dates for the summer 2018 trip, the alliance's medical students will begin raising funds to finance the journey.
DONATE TO THE EMORY HAITI ALLIANCE
The costs associated with these trips are significant, with overhead including medical supplies and team members' airfare. Private and corporate generosity can do much to reduce the impact of these expenses on team members while fueling the trips' successes. By giving, you can become an integral part of this educational and humanitarian effort and contribute to Emory's ongoing mission to help define the future of healthcare in this country and abroad.
To donate to the Emory Haiti Alliance you may use a credit card, check, money order, electronic funds transfer, or give appreciated stock or other real property. You can also invest in the program with a bequest or life income gift, which can provide for you and your family, create tax benefits, and leave an important legacy for this nexus of Emory's educational and international efforts.
Gifts can be mailed to 1440 Clifton Road, NE, Suite 170, Atlanta, GA 30322. Please make checks payable to Emory University and note the Emory Haiti Alliance with your gift.
To give online, please visit Emory's secure giving page.
CONTACT
For any additional information or assistance in making your gift, please contact Vicki Riedel, Executive Director of Development, Woodruff Health Sciences Center of Emory University, at vriedel@emory.edu or 404.778.5939.